Product Description
Edit
Not every battle is fought between legions of troops or flights of starfighters. Some battles are fought with information, secrets, and covert operations, pitting the bravest Rebel Spies against the terrifying Imperial Security Bureau. Now, you can bring this shadow war to your games of Imperial Assault with The Bespin Gambit expansion!
In The Bespin Gambit, you'll find a wealth of new content to take your campaigns and skirmishes into the ritzy hotels and industrial underworks of Cloud City. Iconic characters like Bossk and Lando Calrissian join the game for the first time, gorgeous new map tiles portray some of the most memorable Cloud City locations, while new companions and a new condition change the flow every game. With two new Rebel heroes, one new Imperial class, new Mercenaries figure groups, a new mini-campaign, and a new focus on your Spy characters, The Bespin Gambit offers an indispensable bonus to every Imperial Assault player.
Included Components
Edit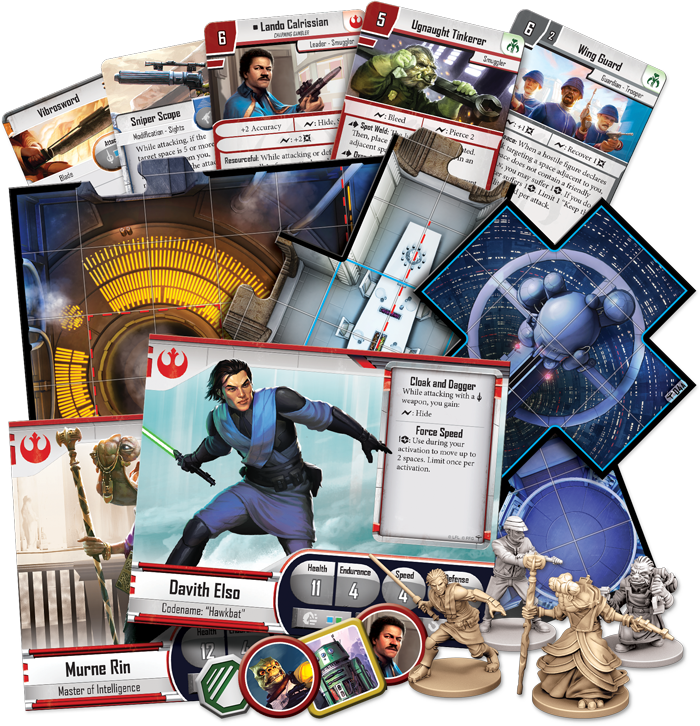 Miniatures
Edit
Mercenary 
Edit
Ugnaught Tinkerer (x3)
Wing Guard (x6)
Hero Cards
Edit
Deployment Cards
Edit
Imperial
Edit
Mercenary
Edit
Companions
Edit
Command Cards
Edit
Missions
Edit
Side Missions
Edit
Skirmish Missions
Edit
Agenda Sets
Edit
Imperial Class Decks
Edit
Reward Cards
Edit
Item Cards
Edit
Supply Cards
Edit
Condition Cards
Edit
Double-sided map tiles (x12)
10 Condition tokens
3 Ally & Villain tokens
3 Companion tokens
Damage tokens (x3)
Strain tokens (x9)
Ally/Villain Packs
Edit
The following are the individual figure packs which were released at the same time as The Bespin Gambit:
Community content is available under
CC-BY-SA
unless otherwise noted.